Abstract
529
Objectives Linear methods including Logan's graphical method are widely used for quantitatively deriving functional parameters from kinetic data measured by PET. But they may lead to bias in the estimated parameters, particularly for reversible kinetics. The source of the bias is commonly attributed to noise in the data. We investigate the bias that originates from model error associated with model simplification.
Methods We find that the bias due to model error may be more significant than that due to noise. Conditions are derived under which Logan's graphical method either over- or under- estimates the distribution volume in the noise-free case. The bias caused by model error is quantified analytically. Our analysis shows that the bias of graphical methods is proportional to the variation of the ratio of specifically bound radioactivity to the total radioactivity in a region during the assumed equilibrium time window. Furthermore, visual examination of the linearity of the Logan plot is not sufficient for guaranteeing that equilibrium has been reached. A new model along with an algorithm is presented for bias correction.
Results We perform simulations with the [11C] benzothiazole-aniline (PIB) using published clinical data. The results show that the proposed method significantly reduces the bias due to model error. The worst bias associated with Logan's plot, -33.97%, is corrected to -12.71%. Moreover, the results for data acquired over a 70 minutes scan are at least as good as those obtained using existing methods for data acquired over a 90 minutes scan.
Conclusions The proposed approach will have considerable impact on practical PET quantification (http://math.asu.edu/~hongbin/GAmodelerror.php).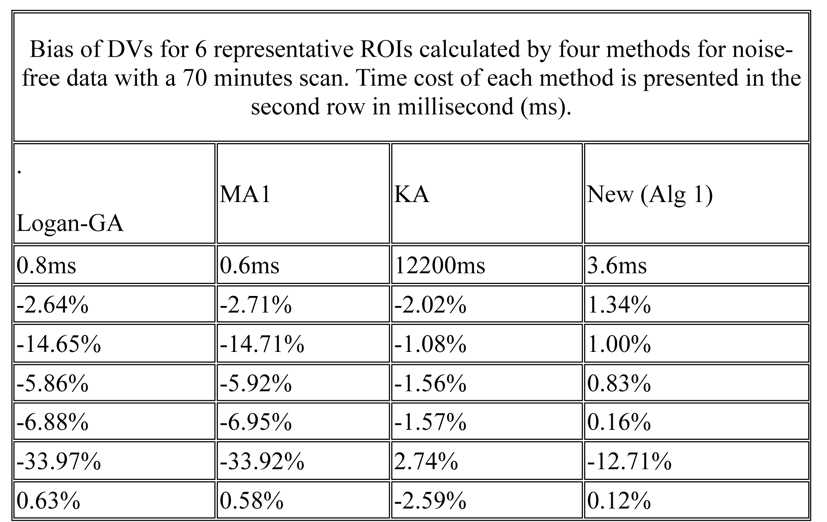 © 2009 by Society of Nuclear Medicine