Otani and colleagues explore the relationship between myocardial 11C-DAG accumulation assessed by PET and left ventricular enlargement, systolic dysfunction, and humoral activation after myocardial infarction.
Ribeiro and colleagues use 18F-fluoro-l-DOPA PET to detect hyperfunctional pancreatic islet tissue and distinguish between the diffuse and focal forms of hyperinsulinism in infants.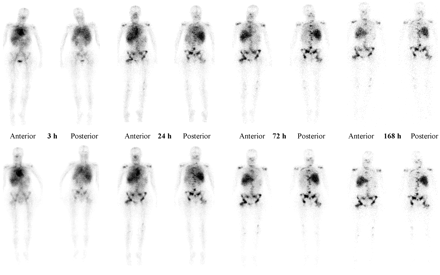 Akhtar and colleagues evaluate the scintigraphic imaging potential of 99mTc-ubiquicidin 29-41, a synthetic antimicrobial peptide fragment, for localizing foci of infection in human bone and soft tissues.
Minutoli and colleagues report on the effect of timing differences on the reliability of 99mTc-MIBI SPECT imaging in differentiating neoplastic from nonneoplastic intraparenchymal cerebral hemorrhage.
Hockaday and colleagues assess imaging and biodistribution data from a phase I/II trial of intracavitary 131I-TM-601 in patients with recurrent high-grade glioma to determine whether this radiolabeled compound might be useful in estimating the extent of primary brain tumor.
Kim and colleagues compare inline PET/CT with dedicated PET and with software fusion of independently acquired CT and PET scans for staging of recurrent colorectal cancer.
Beyer and colleagues report on the efficacy of several support structures and placements in reducing the likelihood of patient motion in the head and neck during whole-body PET/CT studies.
Halpern and colleagues characterize optimal lutetium orthosilicate PET imaging protocols to meet the challenges of lesion detection in obese patients.
Brix and colleagues use a phantom to assess the radiation exposure of patients undergoing whole-body 18F-FDG PET/CT examinations at 4 hospitals with different tomographs and imaging protocols and describe possible strategies to reduce exposure while maintaining quality.
Parsey and colleagues investigate human biodistribution and dosimetry of the PET serotonin 1A antagonist 11C-WAY100,635 and discuss the importance of human dosimetry studies in the development of new radiotracers.
Sharkey and colleagues describe the pharmacokinetics, dosimetry, and dose-limiting toxicity of a support protocol for patients with advanced medullary thyroid cancer, including humanized anticarcinoembryonic antigen or monoclonal antibody combined with doxorubicin and peripheral blood stem cell support.
Vallabhajosula and colleagues compare the pharmacokinetics and biodistribution of 111In- and 177Lu-labeled J591 antibody in patients with prostate cancer and estimate the radiation dosimetry of 90Y-J591 to assess the utility of 111In as a chemical and biologic surrogate for 90Y.
Shen and colleagues detail the patient-specific dosimetry of pretargeted 90Y/111In-DOTA-biotin after CC49 fusion protein in patients with metastatic gastrointestinal cancer.
Lee and colleagues evaluate the feasibility of sodium-iodide (NIS) symporter gene imaging with radioiodide scintigraphy for assessing myocardial gene expression in a rat model by using a dual-gene adenovirus that expresses both NIS protein and enhanced green fluorescent protein.
Yagle and colleagues investigate 18F-annexin V binding to apoptotic tissues in a model of chemically induced apoptosis in rat liver and discuss the potential of this radiolabeled protein for early, individualized PET assessment of clinical response to cancer therapy.
Wang and colleagues combine bioluminescence and microPET modalities to elucidate the utility of homeodomain protein SIRES bicistronic vectors for improved assessment of therapeutic gene expression based on reporter gene expression in living subjects.
Zhao and colleagues describe the intratumoral distribution of 18F-FDG and compare it with regional expression levels of glucose transporters and hexokinase-II in a rat model of malignant tumor.
Vavere and Welch outline the biodistribution and microPET imaging characteristics of 45Ti-transferrin in a mouse model to provide insight into the action of titanocene dichloride, a chemotherapeutic agent now in clinical trials.
Schuhmacher and colleagues report on a study in mice evaluating a novel bombesin analog labeled with 68Ga for gastrin-releasing peptide receptor imaging with PET.
Pozzi and Zalutsky detail the results of experiments to identify the phenomena responsible for difficulties in 211At-labeled antibody synthesis at high radiation doses and the solvent-related effects that may be relevant to synthesis of other therapeutic radiopharmaceuticals.
Aubert-Broche and colleagues compare and evaluate 4 methods for SPECT detection of interhemispheric asymmetries of brain perfusion in epilepsy, with special attention to the relative merits of quantitative assessment and visual inspection.
ON THE COVER
Because cardiac gene therapy entails multiple complex steps, including delivery and expression of transgenes, interest is increasing in noninvasive methods of monitoring myocardial gene expression. The need for PET scanners and on-site radiochemical synthesis limits widespread application of radioprobes that specifically target proteins produced by the transgene of interest. More accessible instruments and simple radioprobes have been under study, such as the use of γ-cameras and free radioiodide to study the sodium/iodide symporter (NIS) gene. A dual-gene vector that included the NIS gene as a reporter gene appeared to allow accurate assessment of the level of myocardial expression of a second gene of interest.