Buck and colleagues assess published reports suggesting that, in addition to its utility in staging and restaging lung cancer, 18F-FDG PET provides significant prognostic information on patients with non-small cell lung cancer.
Scheffel and Pomper look at the promise and potential limitations of current tracers used in PET imaging of gastrin-releasing peptide receptor expression in prostate cancer.
Lemke and colleagues report on incremental diagnostic information provided by retrospective PET/CT image fusion on data from patients with suspected pancreatic lesions.
Erdi and colleagues evaluate the effects of motion and respiratory phase on standardized uptake values in PET/CT of patients with lung cancer.
Pirotte and colleagues compare the merits of 18F-FDG and 11C-methionine as tracers for PET-guided neurosurgical procedures on gliomas.
Knappen and colleagues investigate the advantages of the perfusable tissue index in noninvasive assessment of myocardial fibrosis in patients with idiopathic dilated cardiomyopathy.
Tanabe and colleagues apply 123I-MIBG myocardial scintigraphy to the physiologic assessment of patients with panic disorder and find evidence of impaired cardiac sympathetic function.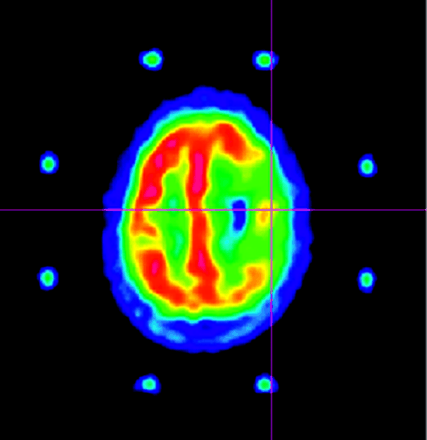 Wells and colleagues present results evaluating the utility of dSPECT, an iterative algorithm, in removing bladder artifacts from clinically acquired pelvic bone SPECT images.
Jani and colleagues assess the role of radioimmunoscintigraphy directed against prostate-specific membrane antigen in influencing radiotherapy toxicity and biochemical control after prostatectomy.
Fuster and colleagues compare the accuracy of 18F-FDG PET with that of standard diagnostic clinical procedures in detecting locoregional disease and distant metastases in patients referred for suspected recurrent melanoma.
Sundaram and colleagues describe a simplified kinetic analysis method for dynamic assessment of 18F-FDG uptake in tumor.
Guo and colleagues investigate correlations between 18F-FDG uptake in PET imaging, lactate and choline concentrations measured by in vitro 1H magnetic resonance spectroscopy, and survival in human lung adenocarcinoma.
Bagheri and colleagues describe the additional value of 18F-FDG PET/CT over PET alone in reliable visualization of the normal adrenal gland.
Weber and colleagues evaluate a continuous-infusion H215O PET and acetazolamide challenge protocol as an alternative to single-bolus injection for assessment of cerebral perfusion status in patients with cerebrovascular disease.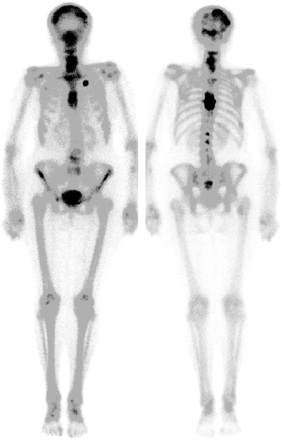 Oturai and colleagues compare the diagnostic accuracies of γ-camera PET and dedicated PET in patients with suspected lung cancer.
Pandit-Taskar and colleagues provide a comprehensive review of radiopharmaceuticals currently used for palliation in patients with osseous metastases, including approved dosages, methods of administration, indications for use, and recommended guidelines.
Sgouros and colleagues describe and evaluate 124I PET-based, patient-specific, 3-dimensional dosimetry for 131I therapy in thyroid cancer.
Blankenberg and colleagues propose a novel imaging complex with a radiolabeled adapter protein bound to a docking tag and fused to a targeting protein as a model system for targeted imaging with a variety of protein-based radiotracers.
Thakur and colleagues assess the feasibility of 64Cu-TP3982 PET imaging of oncogene VPAC1 receptors overexpressed in human breast cancer cells.
Chen and colleagues use small-animal PET and autoradiographic imaging in prostate cancer-xenografted mice to evaluate 64Cu-radiolabeled gastrin-releasing peptide analogs for imaging peptide receptor expression.
Toyama and colleagues report on the use of 18F-FDG and small-animal PET for investigating the feasibility of absolute quantification of regional cerebral glucose use in a mouse model.
Koort and colleagues describe a laboratory study comparing the 18F-FDG PET characteristics of normal bone healing with those of local osteomyelitis and evaluating the ability of PET to differentiate bone healing from local infection.
Divgi and colleagues determine the maximum tolerated whole-body radiation-absorbed dose for a 131I-labeled fractionated radioimmunotherapy used for metastatic renal cancer.
ON THE COVER
This image depicts localization of 64Cu-DOTA-Lys3-bombesin in PC-3 and CWR22 tumor-bearing mice as determined by microPET imaging (Concorde Microsystems, Inc.) followed by whole-body autoradiography. The microPET image is concordant with the whole-body autoradiographic section. Both the PC-3 tumor and the CWR22 tumor are visible, with clear contrast from the adjacent background. Prominent uptake is also seen in the liver and kidneys, and clearance of activity through the urinary bladder is evident.