Abstract
346
Objectives Respiratory gating helps reduce breathing motion blur in PET. However, the image quality of the gated scans is decreased unless the duration of the scans is increased. Using simulated data we compared different reconstruction methods with temporal regularization.
Methods Simulations of Philips Gemini GXL gated PET acquisitions (8 gates, 2 min/bed position) of the NCAT phantom were performed using the GATE software. Four spherical tumors (25 mm in diameter, SUV=4) were inserted in the right lung. Five reconstructions were compared. Two 4D reconstructions assumed that every pixel time activity curve along the 8 gates was a linear combination of a set of basis functions. These basis functions were either estimated during the reconstruction (Reader et al, Phys Med Biol 2006, 4DRest, 6 basis functions) or set a priori as 32 Gaussian functions (4DRfix). The other 3 methods were independent reconstruction of each gate (IR), IR followed by temporal filtering with Gaussian kernels of standard deviations of 0.5, 0.9 and 1.5 in gate units (TF-IR) and non-gated reconstruction (NGR).
Results The table shows the percent improvement in SNR in the soft tissues compared to IR (row 2), the percent bias in activity measurement in the most mobile tumor compared to the activity in the IR image (row 3), and the percent error in the center of mass position in the axial direction of the most mobile tumor (row 4).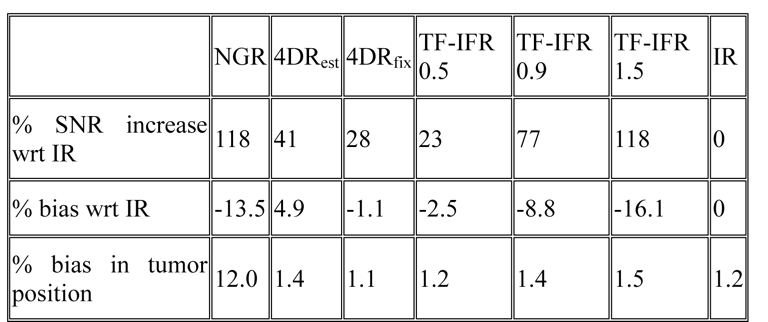 Conclusions All reconstructions with temporal regularization (4DRest, 4DRfix or TF-IR) improved the SNR compared to IR. 4DRest and 4DRfix yielded the smallest biases due to residual motion while still significantly increasing SNR. Neither of the two 4D methods appeared better than the other.
© 2009 by Society of Nuclear Medicine