Abstract
1596
Objectives Recently we have discovered that a small carboxylic acid, 2-[18F]-fluoropropionic acid can be used for detecting prostate cancers. Our goal was to identify other small fluorinated carboxylic acids, which hold promise as PET tracers for prostate cancer. In this regard, here we present PET imaging and biodistribution studies of 2-[18F]-fluorobutyric acid (2-[18F]-FBA) in nude mice with prostate tumor xenografts (CWR22rv1).
Methods 2-[18F]-FBA was synthesized by treating methyl-2-bromobutyrate with [18F]-KF/Kryptofix in acetonitrile at 80 ºC, purified by HPLC and followed by deprotection. The product was formulated in saline and used for in vivo studies. For the prostate tumor model, nude mice were implanted s.c. with 5 x 106 CWR22rv1 cells and used two weeks later for imaging. 2-[18F]-FBA (7.4 MBq) was injected via tail vein and the mice were imaged using MicroPET. For biodistribution studies, the mice were sacrificed at different times post administration of tracer and the activity in different organs was counted.
Results 2-[18F]-FBA was synthesized in good yields (>40% dc) and high purity (>97%). MicroPET imaging and biodistribution studies revealed that the compound was taken up in the tumor. Activity was also observed in the heart and lungs and clears predominantly through renal pathway.
Conclusions MicroPET imaging and biodistribution studies indicate 2-[18F]-FBA has good tumor accumulation, and clearance from non-target organs suggesting its potential as a prostate cancer imaging agent.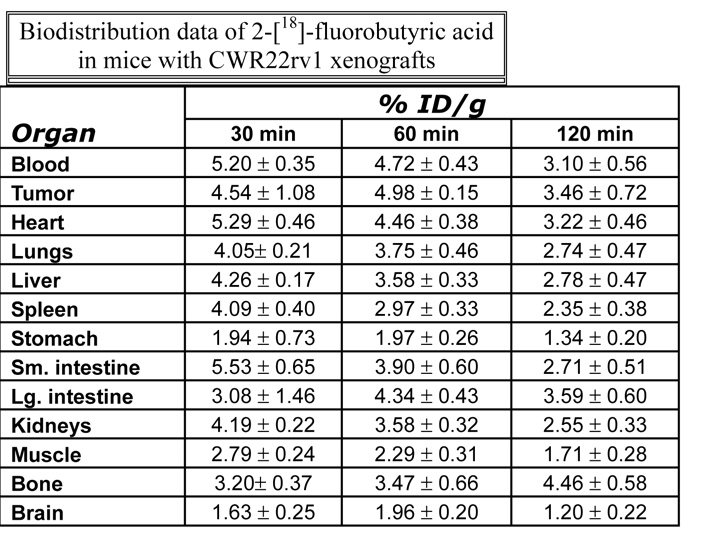 © 2009 by Society of Nuclear Medicine