Abstract
1512
Objectives Respiration causes mismatch between CT and PET images, affecting PET quantification. We have recently developed an image-based method to correct for known errors in the attenuation factors. The method does not need re-reconstruction and is fast (<2s). Here we evaluate the effect of attenuation mismatch and the efficacy of the correction method on quantification of SPNs.
Methods Respiratory-gated CT and FDG-PET data were acquired on 5 patients at San Raffaele Hospital, Milan using a GE DSTE PET/CT scanner and Varian RPM tracking device. CT and PET data were gated into 6 matching phases. Each PET gate was reconstructed using each CT gate, introducing mismatch in 5 images for each PET gate. These images were corrected based on the difference of the mismatched and matched attenuation images. 9 lesions were segmented on each image, and meanSUV and volume was computed. The effect of attenuation mismatch was analyzed with the following metrics: 1) for every PET gate, the relative Root Mean Square Error (RRMSE) of the 5 mismatched data sets was computed and then averaged over all 6 PET gates; 2) the maximum relative error (maxRE).
Results Segmented lesion volumes were 1-4cc, while maximum lesion displacement ranged between 6-12 mm.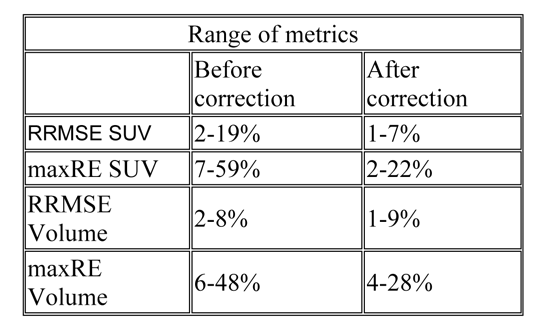 Conclusions Using CT data of a different respiration stage for attenuation correction affects quantification of SPNs. Changes in SUV values depend on the amount of motion and the surrounding tissue. The image-based correction decreased average variability in meanSUV from 7% to 3%. As the method is fast, it shows great potential for interactive correction of PET images for misalignment with CT.
© 2009 by Society of Nuclear Medicine