Abstract
13
Objectives: Some authors reported that the uptake of the inferior wall in myocardial I-123 MIBG SPECT is underestimated because of photon attenuation and scatter. CT-SPECT combined system might be useful for attenuation and scatter corrections with myocardial SPECT. The purpose of this study was to investigate these corrections with I-123 MIBG SPECT using a CT-SPECT. Additionally, a comparison between FBP and OSEM reconstruction algorithms were performed, to estimate the effect from adjacent activity in the liver.
Methods: Twenty patients with cardiovascular diseases were studied. After an injection of I-123 MIBG (111MBq), SPECT acquisition was performed on a dual-headed digital gamma camera system. After that, CT-SPECT was performed immediately on the same device for photon attenuation and scatter corrections. The data were reconstructed with FBP and OSEM. Polar maps were obtained in each patient with two algorithms that were with and without the corrections based on CT-SPECT data. The left ventricular myocardium was divided into 7 segments on the polar map. The uptake was evaluated by quantitative perfusion SPECT software, and inferior to anterior wall ratio (IAR) was calculated. Finally, the obtained data were 480 in this study, and paired t-tests were performed in these data.
Results: There is no significant difference in IAR between the two reconstruction algorithms, but the corrections with CT-SPECT could increase the uptake of the inferior wall and decrease it of the anterior wall. Results were summarized in the table. Statistically significant increase of the uptake was seen in the inferior and inferolateral wall (p < 0.005, p < 0.005, respectively). In other hand, there were statistically significant decreases in anterior, anteroseptal wall and Apex (p < 0.0005, p < 0.01, p < 0.0001, respectively). Statistically increase was also seen in the IAR (p < 0.0005). These change of the I-123 MIBG distribution could be derived from the corrections, not depend on the reconstruction algorithms.
Conclusions: Photon attenuation and scatter corrections based on the CT-SPECT data could be useful to evaluate the myocardial sympathetic nerve activity with I-123 MIBG.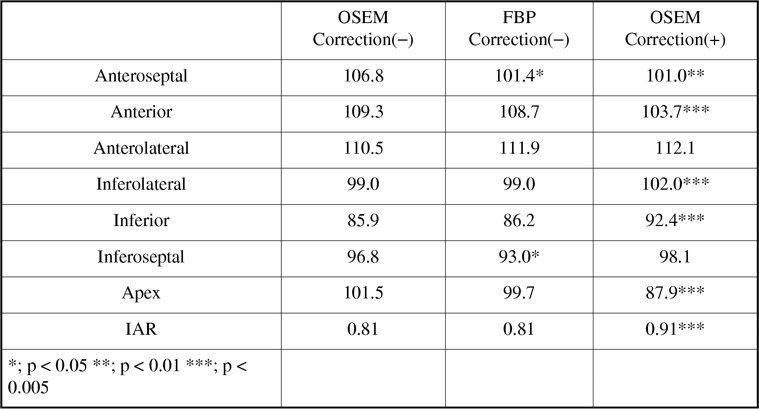 Society of Nuclear Medicine, Inc.